8 Kitchen and Bath Trends You Will Love in 2018
Experts Forecast the Biggest Kitchen and Bath Trends
What do vibrant colors, mixing finishes, and smart technology have in common? Maybe your next home remodeling project. They're a sampling of the latest trends featured at the 2018 Kitchen & Bath Industry Show (KBIS) in Orlando, Florida.
In fact, since one of our designers, Andrea Woodall, attended KBIS, we can give you the inside scoop. Are you ready for the details? According to design experts, here's what you'll be seeing a lot of this year.
8 Exciting Kitchen and Bath Trends for 2018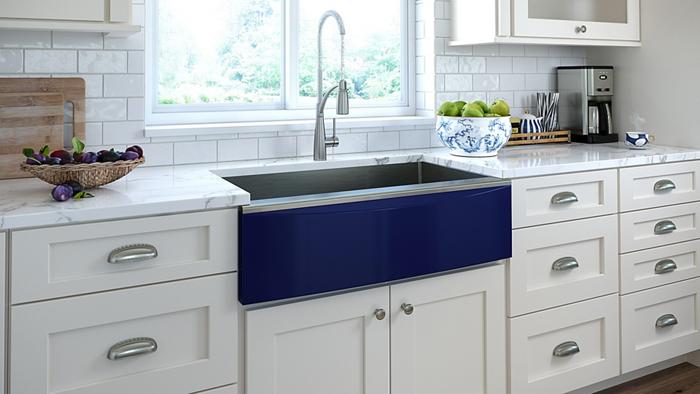 1. Color 
Bold colors, especially different hues of blue, were everywhere at KBIS. From bathroom cabinetry to the kitchen sink, colorful options are on the rise. While neutral shades such as whites, creams, grays, and browns create a timeless backdrop, color offers homeowners the opportunity to express their personality. Why buy a ho-hum stainless steel range when you can have a stove that makes you smile every time you look at it?
2. Mixed Finishes
The move towards richer colors coincides nicely with mixing cabinetry finishes. Two-tone cabinets add character to your kitchen. While mixing island and perimeter cabinets has been happening for some time, designers are now varying base and wall colors too. For example, using lighter upper cabinets gives your kitchen an airy feel without sacrificing storage, while darker lower cabinets ground the space. Also, mixing finishes lets homeowners combine modern and rustic textures and styles in one area.
3. Gold & Rose Gold 
The classic shade of luxury and wealth is back in home décor but in brand new ways. This isn't your grandmother's shiny yellow, bright brass finish. Modern, warmer toned gold and rose gold are more subtle than their predecessor. The new golden hue is the perfect complement to white, gray, or black cabinetry.
4. Matte Black Finishes 
If KBIS is any indication, you'll want to use matte black in every room of your home. Matte black finishes make a big, bold statement. Also, black pairs beautifully with almost any other color or metal. For example, matte black and modern brass combinations can add drama to your kitchen or bath.
5. Patterned and Textured Tile 
Move over, subway tile; now there's something cooler! Tiles in unique shapes, patterns, and textures are on the rise, and no pattern or texture is off limits. Decorative tiles add visual interest and personality to your kitchen or bath.
6. Herringbone Patterns 
The phrase, "what's old is new again," is befitting for the current herringbone craze. After all, the crisscrossing pattern can be traced back to the Roman Empire. If you love the timeless look of subway tiles but want something unique, herringbone pattern is the twist you're looking for. The classic pattern works well in many spaces and is especially popular as a backsplash or flooring.
7. Freestanding Bathtubs
Bathrooms are becoming more spa-like, and freestanding tubs are a striking focal point and relaxing spot to unwind after a long day. Also, freestanding bathtubs are available in a variety of styles and colors.
8. Smart Technology
Finally, tech stepped up its game at KBIS this year. The kitchen and bath industry is really starting to embrace technology. From smart appliances like a refrigerator that can alert you when foods are running low, to a vanity mirror that can adjust the light brightness from your voice command, technology is all about making your life more convenient.                                                                                       
To sum up, whether you want to make a few small updates or you're ready for a major kitchen renovation, 2018 is an exciting time for kitchen and bath design. Set up a time to meet with one of our expert designers to discuss how to incorporate the trends into your space. You can also follow Harrisburg Kitchen and Bath on Facebook, Twitter, Instagram, Pinterest, and Houzz for more photos and remodeling insights.
Can you see any of the trends we mentioned in your home? Let us know in the comments.